What You Don't Know About Legal Matter Management in 2023
You work on matters every day — collaborating with your team, seeing what updates are coming in, talking to outside counsel and clients. You know all about the challenges involved in legal matter management and you know how it works. Right? Well, maybe not as much as you might think.
How legal teams are managing matters is changing — and with that change comes a huge amount of benefits. The digital transformation that's taking place in the legal industry is acting as the linchpin for a revolution in matter management. CLOC's State of the Industry Report found that 79% of respondents use legal matter management software to overcome the challenges involved.1 And with legal technology improving every year thanks to tools like Lupl, that number is only going to go up.
Thanks to technology, the way lawyers can deliver more for their clients, along with all other legal processes, is going through a seismic shift. Let's explore what you might not know about the technology that's transforming legal matter management in 2023…
What is legal matter management?
Legal matter management encompasses the coordination, organization and delivery of all the core components involved in legal matters. The term itself has meant many things and can be confused with case management.
The term has been used to refer to eBilling, working with outside counsel or a range of specific tasks related to individual cases. Today, it refers to almost all legal operations — everything involved in a matter.
Today's legal matter management is all about tech
In many law firms and corporate legal departments today, matter management might look like back-and-forth emails or frustratingly long email chains. It's all information and files that are hard to find and includes a bunch of different software tools to communicate, collaborate and share information.
In fact, one survey found that 45% of respondents used between 5 and 10 different technologies to support their legal processes, while 30% said they used more than 10!2 Sound familiar? If you're in that 45%, there's one thing you certainly know about legal matter management: it can be a challenge.
Bloated tech stacks make it tricky to get things done, nevermind getting them done efficiently. Switching back and forth between apps is time consuming, weakens security, can muddy the communication waters and, overall, makes your life harder than it needs to be.
So you might not know that cutting edge legal tools, like Lupl, are streamlining matters to create one place to store and work on everything. Lupl is a project management tool with matter management capabilities, meaning you're not just adding another bit of tech to your stack — you're using one new bit of tech to unite your stack.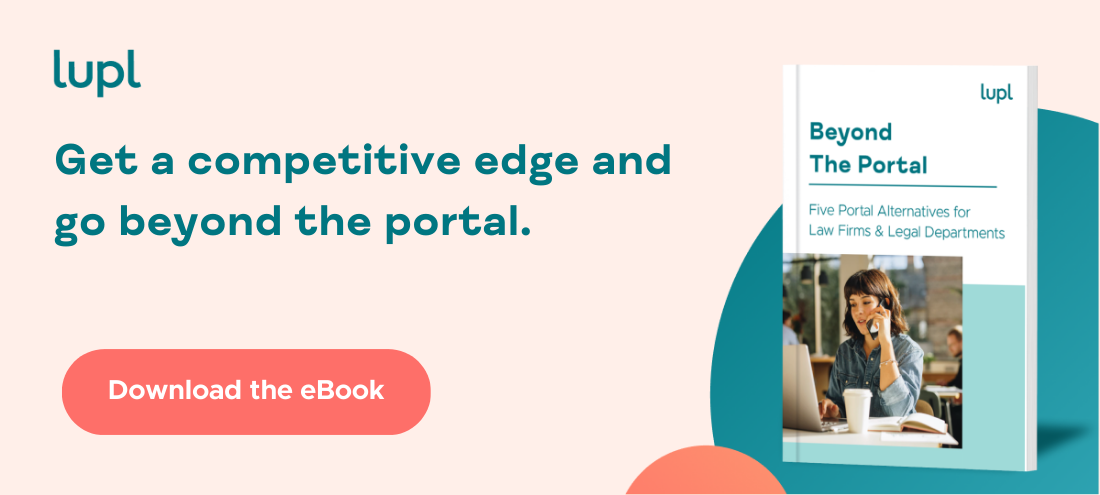 Project management is in for an improvement
Let's say you're managing a project — probably more than one. Maybe you're overseeing all the projects that make up your matter portfolio at once. What's the one change that would help you the most?
Is it having everything related to each project in one, easily accessible place? Or easier communication between internal and external teams? How about project templates so gathering information becomes a drag-and-drop process into pre-made lists? What if we could give you all of those, all at once.
Legal matter management and legal project management go hand-in-hand. A project can range from just one matter to multiple, depending on what's needed. So by improving how you manage matters, you also improve how projects get managed.
Improving through matter templates
One way this is done is through the matter templates, within which you can:
Keep track of everything that's going on: Assign tasks to people and see how progress is being made with task updates.
Give the right people the right access to matter: You can be in control of who sees what, and what can be done to matter data.
Use all the checklists you'll need: Edited for different requirements, so your project progresses online in real-time, task by task.
Create custom matter templates: If you're working on a unique matter or project, the software adapts to the specific type of document management that you need.
By creating a central, cloud-based location in which all relevant information is managed, collaboration between and within teams becomes more efficient. No more trying to remember where this task or that was created. A single source of truth lets everyone get updates on what's going on, who's doing what, and what needs to be done.
Improving through integrations
Another way that project management can be improved is with the right integrations.
Project management platforms integrate with everyday tools. And if you're using a tool with open APIs, like Lupl, anything can be integrated. This means you don't have to flip between this application and that, from your messaging app to your email, from your email to your… you get the picture. Going back and forth between your technology and applications is a thing of the past. With Lupl, it's all in one place.
Data entry is a breeze. Documents can be uploaded straight from your phone to the matter, providing seamless connectivity.
Security is improved. You don't have to worry about legal documentation getting lost across multiple communication channels.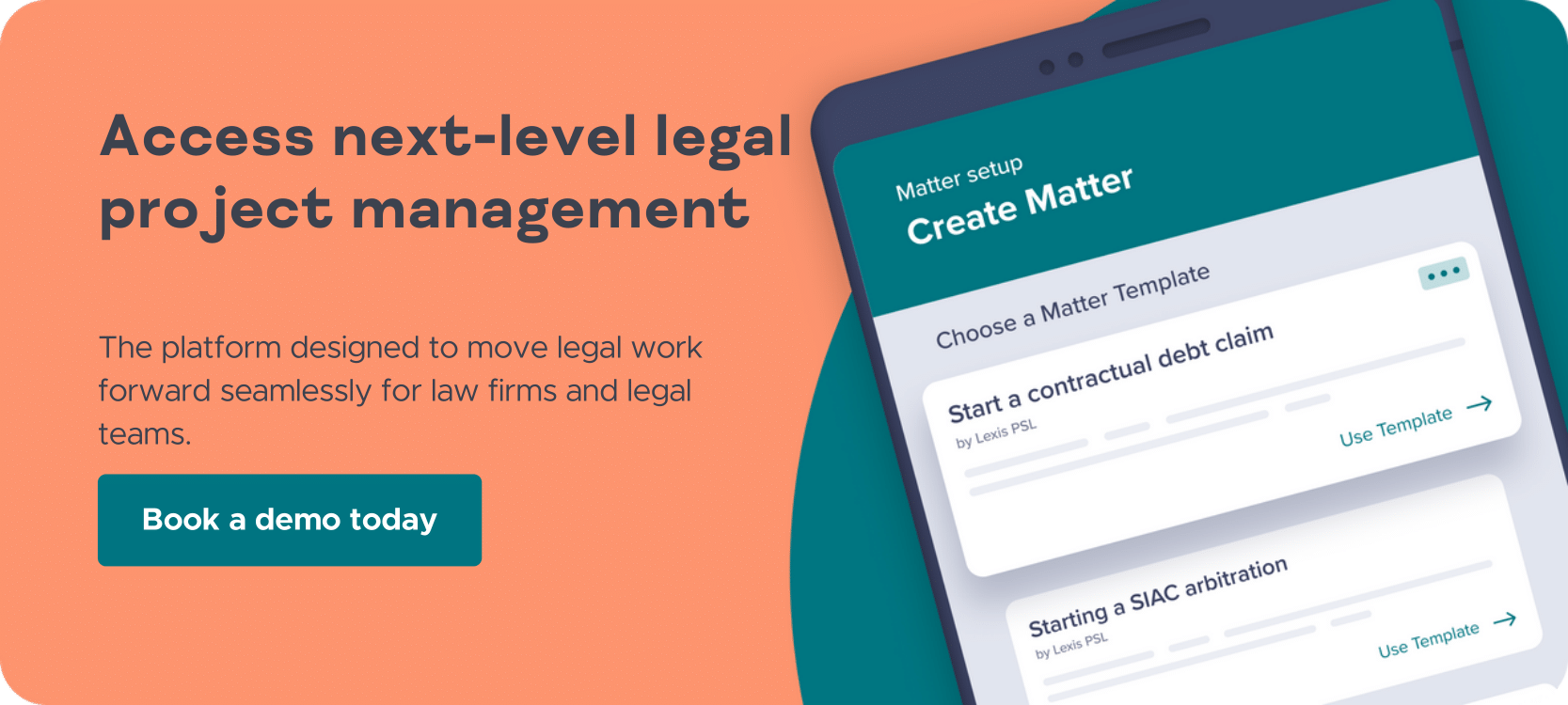 Improving know-how and knowledge
But improving collaboration and project management is all about how you improve the information you're sharing. Knowledge and know-how is the information you're sharing. When it comes to matter management, a tool like Lupl is transforming the quality of both.
You might know that knowledge and know-how are two important sides of the same coin. Knowledge is the letter of the law whereas know-how is how you apply that knowledge in real-world situations. What you might not know is that the way it's shared and circulated throughout the legal industry is being transformed.
Transformative tech
Break down silos: Information gatekeepers and siloes pop up all the time in law firms. Often, they spring up unconscious. By creating one centralized matter where everyone can contribute and communicate, there's no more excuses to keep knowledge or know-how to themselves. Everyone can get the information they need — as soon as they need it.
Improved security: It's not just internal know-how and knowledge that needs to be shared: outside counsel are important too. A platform like Lupl tightens security by letting you use the tools they use and you use in one app, reducing the fear of security issues like a data breach.
Without know-how, processes stall and things are going to get done at a snail's pace. With Lupl, you get the right know-how, right in your lap. By using an app that unites your tech stack and utilising matter templates, your law firm can create a sharing culture — and a secure sharing culture.
Transformed client delivery
Client expectations are evolving. People want to pay less and get more — and expect it all faster than before. The best law firms need to stay aligned with these expectations.
It's all well and good having great relationships with established clients, but if you want to expand in 2023, there are more requirements to meet now than ever before. This means no longer forcing ill-fitting software to meet your needs. What you should know is that digitized, efficient, and crucially simple-to-use matter management software is critical to keeping up with modern expectations.
Legal matter management is no longer just about internal processes to make sure everything's running smoothly. There's a lot more involved and it includes external relations now too. Primarily it's about improving the quality of client project delivery.
Cutting-edge legal tech, like Lupl does this for you:
Keep on top of tasks at a glance: Lupl's dashboard provides a birds eye view of all your matters and projects, so you can see whether that task has been checked off, whether that issue has been resolved, or you're still waiting on feedback from that person.
Get your time back: By reducing the amount of time switching between apps, chasing someone for an update, or hunting down that checklist, you get more of your time back — with Lupl, 40% of your time back. This means you can get on with delivering for clients.
Live document editing: No more sending back and forth waiting for this comment or that. With live document editing, it's quicker and easier to keep track of changes, so you can stay up-to-date and make changes in real time.
Plug-and-play: Get set up with Lupl in under a minute (really!), so you can get started with improving client delivery today.
On top of all this, with the help of Lupl's new feature integrations, your spend management becomes easier. Instead of subscriptions to endless software packages, integrating a platform like Lupl with your billing tool streamlines your spend management.
What you now know about legal matter management in 2023 
If there's one thing you should know about legal matter management now it's that it doesn't have to be as hard as it currently is. New, transformative technology like Lupl is changing all that as it centralises and streamlines matter management.
As client expectations change and increase, legal needs to stay open to changes so that it can continue to improve — that's why Lupl is open too. Our open APIs mean you can integrate our software with what you actually use — and as a company, we're always open to hearing what you need. We bet you didn't know that about modern legal matter management.
To see for yourself how Lupl is transforming legal matter management, book a demo today.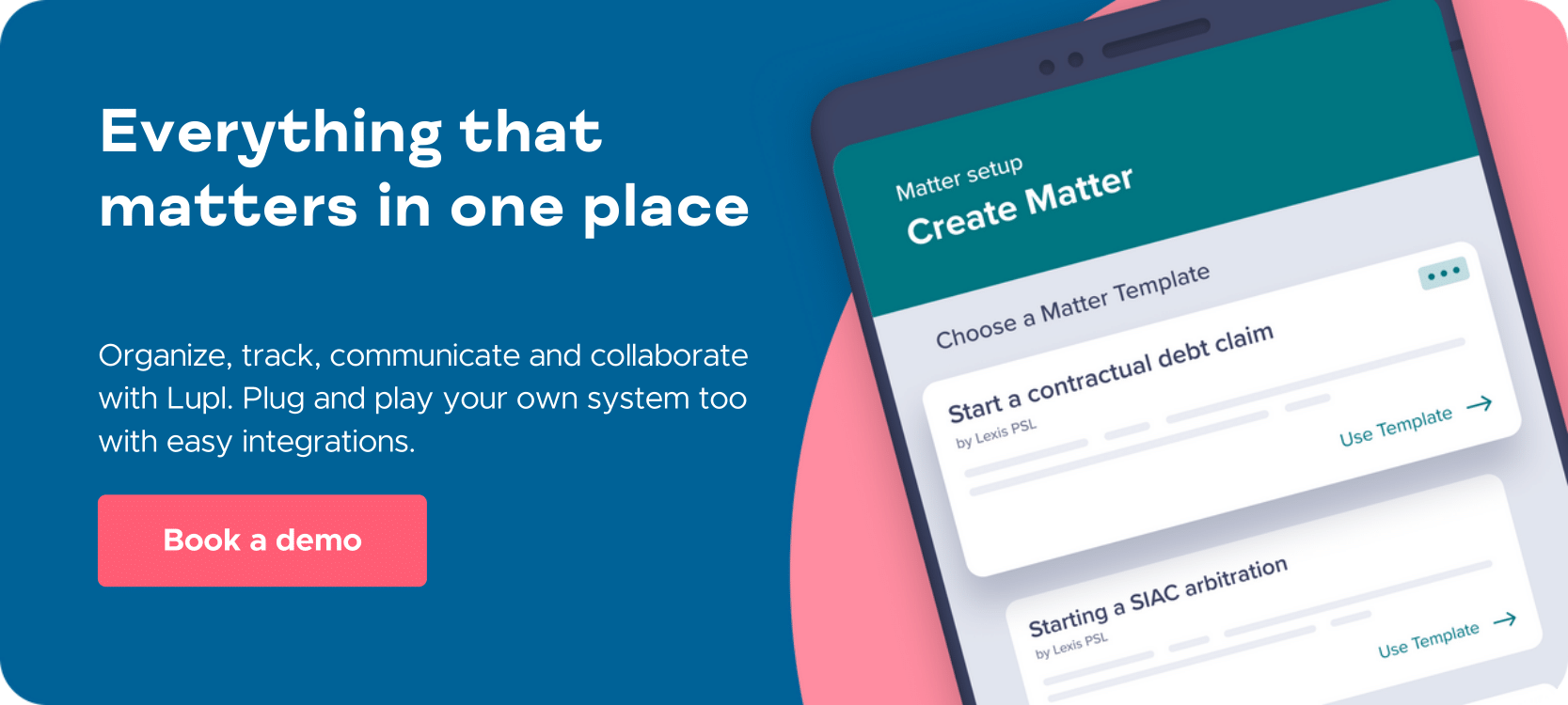 1  2021 State of the Industry Report - CLOC
More legal tech insights we think you'll love
While Artificial Intelligence (AI) may not be new, since the…
Staying organized, fostering effective communication, and cultivating mindfulness are essential…
In the legal industry, where coordination across multiple jurisdictions and…