Is Successful Digital Transformation in The Legal Industry Even Possible?
Digital transformation is happening (or has already happened) everywhere — everywhere except legal. 11% of US firms don't use any technology in their legal processes. In the UK, it's even worse, with fewer than half of firms using automation tools and a further 25% not using any digital technology at all.1
And it's kind of an open secret why the legal profession is lagging behind: the traditional law firm model no longer works. Think about it:
Lawyers trained in old-school processes often have the biggest voice in decision making
Billable hours remain the standard way of working
Wellbeing still isn't being prioritized, leading to chronic stress and burnout
And if an industry is stuck in the past, it can only use the tech of the past. But don't get too downhearted. The legal sector is changing. In fact, it's changing as we're writing this.
If law firms take notice of the change, embrace it, and get ahead of the curve, they can capitalize on the competitive advantage. In this blog, we'll discuss the challenges and how law firms can embrace digital transformation.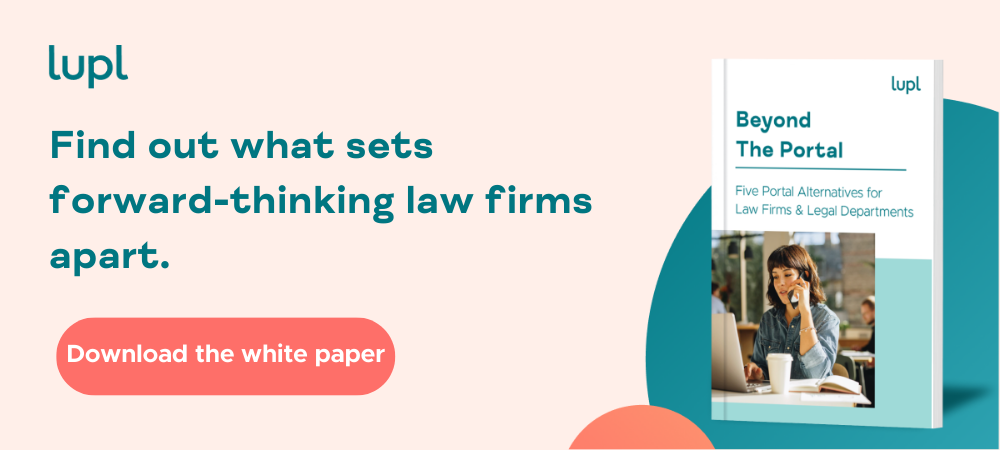 The challenges of digital transformation
Change can be difficult for any industry. And it's no different with legal tech. When technology changes the way people work, it's natural for those responses to be varied — some good and some bad. In legal, resistance to change and adopt new technologies can be particularly strong. Let's take a look at why...
Decision makers
Ask yourself: in your law firm, who are the people with the most powerful voice when it comes to making decisions about technology? Typically, it's the lawyers who worked their way up through the ranks before legal technology had come into its own who are the ones now making decisions.
It's not always about age. Some young lawyers prefer doing things face-to-face, while more experienced lawyers can be the most tech-savvy people around. It's more about your approach to things. However, the lawyers who were trained working face-to-face tend to be the decision makers, which can impact their enthusiasm for digital transformation in their law firm.
Everyone, young or old, is willing to work hard and put in the hours, but that doesn't mean work has to be harder than it needs to be. Almost a quarter of the way through the 21st century, isn't it time to embrace modern methods and digital transformation across the legal industry? You might be able to guess what we think.
Billable hours
The idea that billable hours might be an outdated framework is slowly gathering steam. This is mainly down to two questions that have risen up from the modern workplace:
In an age of transformative tech, are billable hours still the most efficient working model?
Who is it really benefiting?
Billable hours targets also push to the side important, practical parts of the job. There's less time for admin and supervision, internal meetings can be rushed, and one-to-ones can get postponed (never mind just grabbing a coffee with a colleague). There's a lot of talk about stress and burnout in law, and in many firms billable hours are one of the culprits.
Research has found that the negative impact runs deeper than just long hours as well:2
Male bias: Broadly speaking, women spend more time on family responsibilities than men — including lawyers. By being able to spend more time at work, and therefore more time on their billable hours, there's a risk that men are viewed as more successful by this metric. This can contribute to pay gaps: as of 2022, on average female partners are paid 44% less than male lawyers.3
Abled-bodied bias: Focusing purely on billable hours as a marker of success can also disadvantage disabled people in the industry. People who are likely to have medical requirements might not be able — or choose to — meet taxing billable hours targets.
Law firms pride themselves on efficiency. But efficiency often comes into conflict with billable hours. A billable hours structure disincentivizes quicker and more efficient work because working fewer hours means less hours that firms can bill their clients for. And that reduces firms' income.
Those law firms that take the plunge and use tech to make their billable hours structure genuinely more efficient provide an improved customer experience for their clients. Law firms that don't, however, will be behind the curve.
Legal tech not tailored for lawyers
Legal, like many industries, uses a range of digital tools. Communication software for video and messaging. Cloud-based software for file sharing. Writing software to create and collaborate on documents.
But legal also has specific processes and therefore specific challenges. It's hard to create and work on projects using a hodgepodge of tools: for example, combining Google workspace, email, WhatsApp, and other communication apps to create and manage matters is only going to get you so far.
In short, the tech used is often not created by the people who use it — lawyers. For digital transformation in legal to be truly successful, lawyers don't just need new tech, they need legal technology that is purpose-built for what they do.
And that's exactly what Lupl's legal matter management software does, it's legal tech created for lawyers by experienced legal professionals with insights from leading law firms and corporate legal departments.
Lupl is:
Designed for efficiency, providing simple, intuitive legal project management that saves time, improves visibility over projects, and unites your tech stack.
A fully integrated communications and collaboration tool with cross-platform file sharing.
Built for information and data security, with SOC2 accreditation.
Pro tip: There's a lot more you can do with Lupl that will make your law firm digitally proficient in no time. Check out these powerful features for a more in-depth look at what's possible.
But, thanks to tools like Lupl, things are changing. Despite the traditional law firm being outdated, and legal lagging behind in tech, the tide is turning and you might not even be noticing it…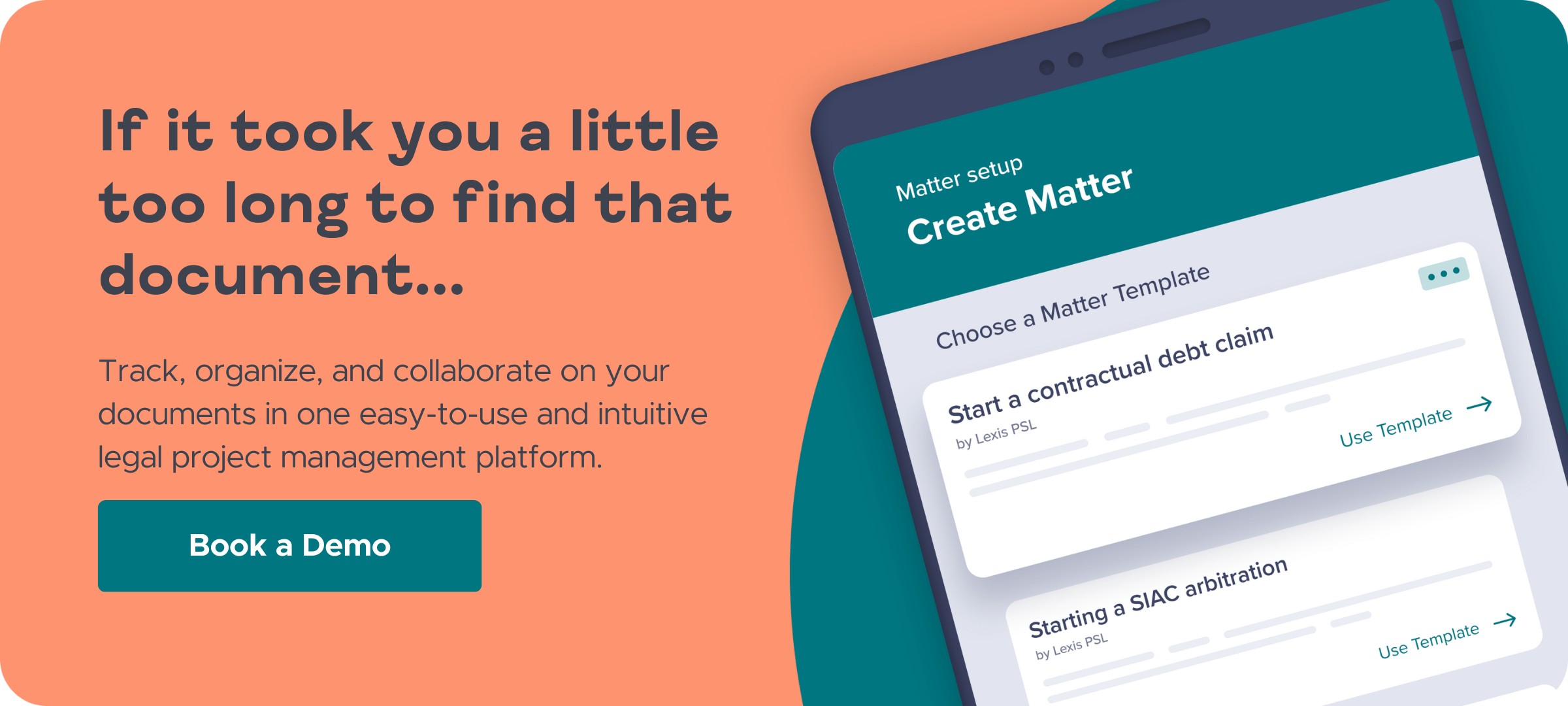 The digital transformation happening right under your nose
It's not a question of if digital transformation in legal is possible, it's more a question of when it's going to happen. The even bigger question for your law firm is whether you're going to get on board with the transformation, seize on the opportunities for law firms and get the edge on your competitors. Let's see how you can do this…
Updating the old school
Sometimes, old school methods still have their place. But to get ahead of the curve (and the competition), law firms need to embrace the modern world — and that means embracing tech.
Stop relying on email: Email isn't the communication tool of the 21st century. It's clunky, messy, hard to navigate, and isn't always secure. By integrating communication tools, from WhatsApp to Slack, into Lupl's platform, you can safely and easily communicate with colleagues and outside counsel using the modern tech you use every day.
Manage matters in a modern way: Managing matters is about more than just communication. It's about setting tasks, making sure they're completed, getting updates on actions — basically, it requires lots of skills. So using ill-fitting tools, like spreadsheets, is no longer going to cut it. Lupl's matter templates are designed for this single goal of managing matters. Create checklists, set tasks to people, follow up on actions, and keep everything relevant in one place.
From purpose-built legal tech like Lupl, to bringing AI capabilities into your, the technology designed to help lawyers get their work done quicker and more effectively is here.
Listening to younger lawyers
As younger lawyers rise up through the ranks, they're a) not accepting the long hours once standard in the industry and b) clued up on tech. With 60% of young lawyers concerned about work-life balance and 54% somewhat likely to leave their job in the next 5 years, adopting new tech isn't just an option anymore — it's a necessity.4
By insisting on more flexible working patterns so they're not burnt out before their 30th birthday, younger lawyers are at the forefront of insisting that legal tech is used in the right way: to streamline processes and make the working day simpler — and shorter.
One way law firms can help right now is to seek a wider perspective when it comes to who decides what tech is brought in. Instead of prioritizing the voice of one group, people from all levels and corners of your law firm should have a say. It's going to directly affect their day-to-day, so why shouldn't they have their say?
Not only this but bringing in the best tech and showcasing that you're enjoying the benefits of digital transformation can help attract new lawyers to your firm.
Legal tech made by lawyers, for lawyers
Lawyers can be guilty of sticking to their established ways of doing things. Even if the tech they're using doesn't quite work, staying with the devil you know is seen as the easier option. This means communication and collaboration stay stuck in the mud.
But legal tech made by lawyers, for lawyers, is changing that. Lupl is a legal project management tool made by lawyers setting out to redefine legal collaboration and transform how legal works.
Lupl can help you:
Streamline processes: Pre-built matter templates give you everything you need to finish a project in one place, at the click of a button. No more going through the arduous process of starting from scratch every time.
Reducing and uniting the tech stack: As a tool for collaboration, communication, document and information sharing, Lupl brings together fragmented and confusing systems into one single place. This helps simplify your tech stack through cross-software app integrations.
Making sharing easy: Uniting information in one central place makes information sharing simpler, breaking down information silos and bringing to the fore know-how that might have been long buried or kept within certain departments.
Improving communication: By integrating the communication tools people use every day, communication gets connected. Whether department-to-department or with outside counsel, real-time cross-business conversations become simplified. And with a dashboard that gives you a bird's eye view of everything that's going on, you won't have to chase people up or spend hours searching for the right file. It's all there waiting for you.
Pro tip: Finding the right tools isn't always easy, but Lupl's done the hard work for you. For more inspiration, see what you'll be able to do with Lupl since its biggest update ever.
Help your law firm lead, not lag 
Digital transformation in legal can seem like an impossible task. But not only is it possible one day, it's happening right now. Your law firm can join in.
By adopting the right new tech, you can streamline your legal processes and enhance the speed and quality of the work you deliver to clients. Law firms can become leaders, instead of lagging behind.
Cutting-edge legal tech made by lawyers, for lawyers, gives you the advantage and puts you ahead of the curve. Introducing Lupl into your daily work might seem like a small step compared to all the obstacles we've discussed, but small steps can have big effects — and micro innovations can have macro impacts in your law firm.
To find out how Lupl can make digital transformation a reality in your law firm, book a demo today.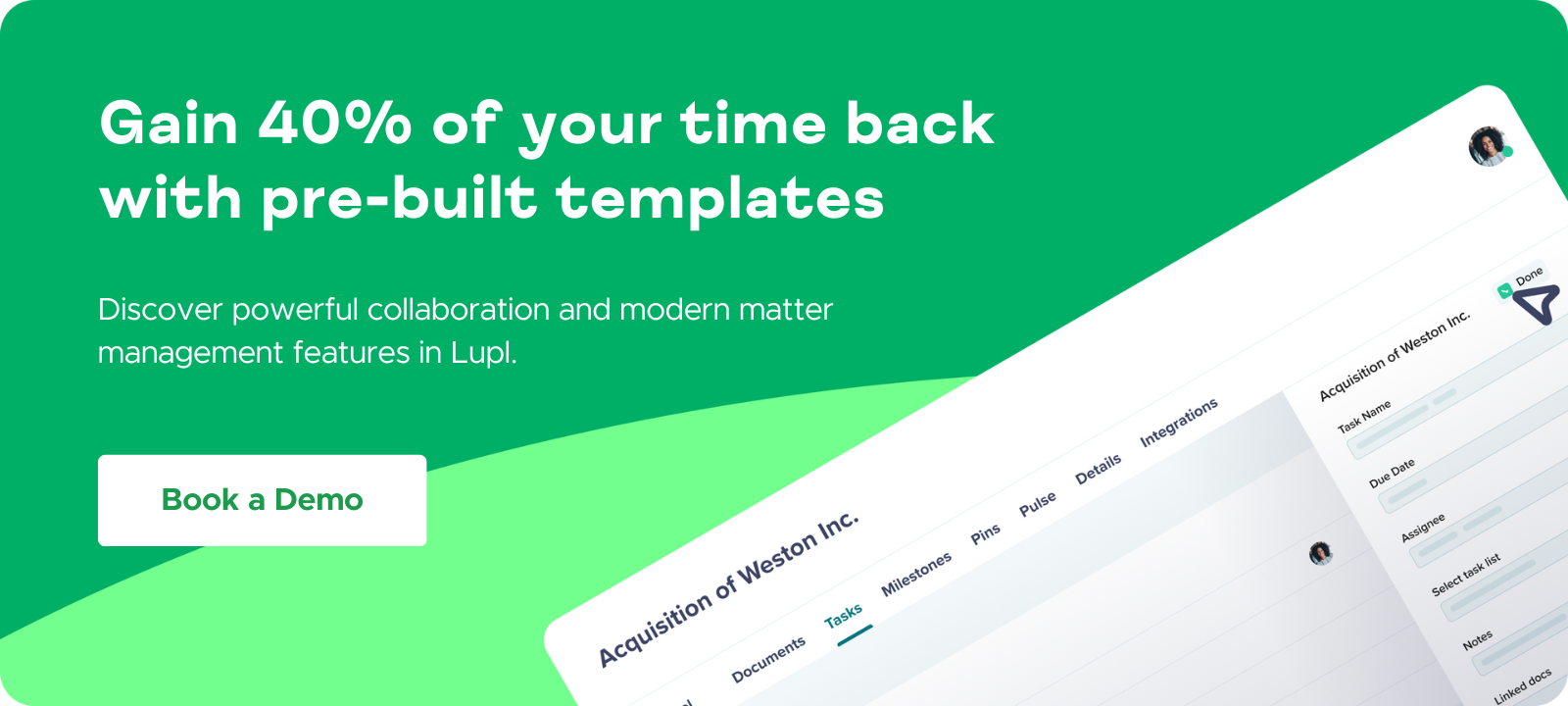 ---
1  Employer News :UK Legal Departments are 'behind the rest of the world' in terms of tech
2  The true cost of billable hours to the profession | Opinion | Law Gazette
3  Male Partners Get Paid More Than Female Partners—Lots More
4  Young lawyers globally seek better balance: IBA report | Law Society of Scotland
More legal tech insights we think you'll love
Lupl's second-generation platform delivers a revolution in legal project management. …
Lupl recently hosted the "Illuminating the Path with LPM webinar,…